Saturday, June 18, 2005
We are family
This is my family. Well most of it. My mom is on the front, far left. My siblings are a pain to point out in this pic. We're all wearing Charlie Brown shirts (for those of you who are
color blind
, which 2 of my uncles are- showing that a) it is only passed to males and b) genetics work- 2/4 got it).
My uncle Paul- 2nd row, center- runs upstairs every year when he gets home from work on Christmas Eve and puts on his
CB
t-shirt. So we thought it'd be fun for everyone to get them on and surprise him when he walked it. We made them at our annual
Outer Banks
trip. Yes, we're dorks like that. But I love 'em.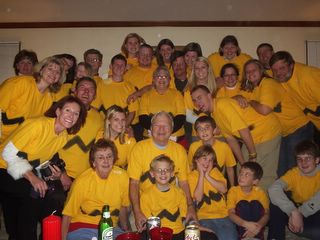 Pop-pop is the guy grinning in the middle. He's the father of 8 (including my dad who's not in the pic). Peggy is next to him. She's our step-grandma, but we love her just as much.

This is my cousin Ann, me, cousin Sara and Larry. The 3 girls are commonly referred to as "the big girls" since we're the 3 oldest girls. The next group of 3 are the little girls (although as of now 2 are 19 and the other's 17). The last girls are just, umm girls. And boys never really got grouped like we did.

This is almost the top row. At Pop-pop's he has all 18 grand-kids' school pics on 2 shelves when you walk in the house. The first 8 are top-row. Me, Jeff, Bret (missing), Sara, Ann, Jill, Holly, and Stacey (missing) are top row. Scott just joined due to the birth of our newest cousin,
Katie
. He now has the privilege of being top row (#9). I know it's geeky, but that's how our family is. Which is why I love them to death. I even have a caller ID group for top row.

I am fiercely protective of my family, which can be hard when there are a gazillion of them. The cool part is that everyone is pretty close. Christmas Eve never has less than 20 family members and random other people are always coming over too. It's crazy, and loving and I wouldn't miss it for the world.